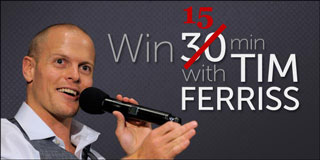 So let's be frank, nobody wants to talk about it, in fact despite all the media hype "The Fifteen Minute Female Orgasm" has received little attention.
Even when Tim was on the "View" surrounded by a large percentage of (I suspect based on the Kinsey study mentioned in his book) an-orgasmic women; the topic of female orgasm was not even mentioned.
Later, in a brief visit with Dr. Oz,  again no mention. I don't necessarily find this surprising, but definitely alarming.
The truth of the matter is that despite the incredibly lucrative sex industry in America, to talk about sex is still considered taboo. And this is a big part of the problem.  What this reveals is that both men and women are afraid to discuss the topic.
I assume that like myself most of us feel self conscious when we talk about sex, even with our  partners. So I applaud Tim for his work in this chapter and was excited to see how Tim could make me: a 33 year old happily married man with 2 kids a "superhuman sex machine." And then prove to me that I was not already!
So, after I downloaded my kindle copy of The Four Hour Body, I immediately got to work. After reading the aforementioned chapter I figured that I would have to give it a try. And as luck would have it, my wife and I were set of for an overnighter in a romantic getaway for the first time since the birth of our 8 month old son. The stars seemed appropriately aligned, now I just had to figure out how to execute my delicate plan.
I decided to wet her appetite the night before, unfortunately since I am a scientific type I may have made this sound less romantic and more like a grand experiment. But, I reassured her that the worst case scenario was an uncomfortably odd 15 minutes, and the best case scenario: well we all know what that is. Surprisingly she was extremely open to the idea.
I organized 4 things
iPhone (set to 15 minute countdown)
Believe it or not my HP Touch smart Tm2t Tablet Computer on which I had stored the digital copy of the book (I kept forgetting the instructions and needed a reference) of course the actual book would be a very good substitute.
Personal Lubricant (this was something that was not mentioned in the book but should have been)
My personal mantra via Tim:

"I am going to touch you for 15 minutes you don't need to do anything, and you don't have to do anything afterward. There is nowhere to get to, nothing to make happen. Just focus on the single point of contact. It's an exercise."

(I would recommend trying to memorize this part, reading it from my tablet proved a distraction)
With this we set to work. As you can imagine setting everything up and getting into position proved to be the most difficult part. And needless to say my body, especially my hand was a bit uncomfortable. How did the session go:
My wife tried to speed things up at the beginning , and I started to ask her how it seemed to be going. But, we both slowed down. I stopped fishing for suggestions and went back to the mantra. She relaxed and so did I this was a big help.
It was harder than I could have imagined to find the right spot, hence Tim's suggestion to try this over several sessions would be ideal.
I think taking "Tim to bed" with his notes really helped at first, and I have decided that there needs to be an app for that. See below
This was a great experience in communication and taking time again to explore your partners body.
It was sexy trying to please my wife, it is a lesson despite it's scientific approach in love making, It made me a more informed partner and I hope this has also helped my wife get more in touch with her body.
We have yet to try the method again and it has been over a month, but that has more to do with the fact that we live in a tiny home and we need to schedule some time for these things now a days, with the kids and all.
Some Useful Links:
If you missed it this free chapter was given away by Tim himself. This is the original free Fifteen Minute Orgasm Chapter (maybe you could put this on your phone or even better make this in to an app) it may save some embarrassment. If you click on the link you can download the chapter via PDF to your i-phone or android device, this would be an excellent idea! Or you can just use your laptop like I did.

Download

The 4 HOUR BODY-15 MINUTE ORGASM
You can sign up to receive updates via RSS or email or join us on Facebook Or check out the upcoming 4 Hour University.
Resources:
Here is an audio guided 15 minute orgasm from OneTaste $3.00