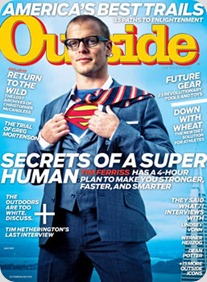 I just finished reading a wonderful article from Outside Magazine which features Tim Ferriss on the front. Tim tweeted the link this morning. Thank you Tim you saved me 5 dollars at the magazine stand!
The article and the interview proves what I have always known: Tim Ferris understands not just the human body, but the human mind.
Why do people call him a crafty marketer? Because when you understand how people (we) work, marketing is easy: You just present it like it should be presented. This is where most of us fail.
Tim makes the most important point of the whole article here:
When asked if we should be using cash and vanity as incentives he responds:
"Absolutely. It pays not to be puritanical with incentives. Just look at what's effective. We like to talk about reward, positive thinking, positive reinforcement. But the sad or useful fact of the matter is that shame, humiliation, peer pressure, financial loss—those things are all more effective."
This is so true and proves that the psychology of who we are is just as important as the biology of who we are! This is where Tim has always succeed.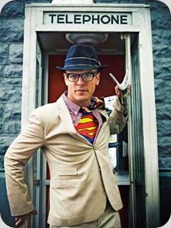 So often we try to design programs for people to follow that don't follow people.  What I mean to say is that they are not designed to truly hit on the aspects that motivate us. And hence they fail.
Tim breaks through standard thinking and pushes boundaries, not just by "hacking" life, but through an innate understanding of the human psyche.
Mr. Roberts asks Tim at the end of the interview how to figure out the formula? I take this to mean: "Tim how do you find the Minimum Effective Dose"
I look for anomalies—identifying the people who are good but shouldn't be, the five-foot-six guy who's 220 pounds but has respectable ultramarathon times. I want to know how he trains, and I'll create a template out of that. Then I'll see if I can replicate the results with similarly ill-suited body types.
Honestly, this makes sense as an approach to life in general, finding the anomalies and deconstructing them from the back end. Sometimes life is best approached from this end. Maybe life is always best approached from this end.
So should we use these principles in all aspects of our life? How about parenting?
Where people get lost is in applying efficiency and efficacy to something that should be ­appreciated. To feel successful in a given field, you have to have achievement and appreciation. With parenting, a lot of the value and joy comes from savoring the moment as opposed to minimizing the time investment.  So could it be applied? Yes. Should it be applied? That's a separate question.
Beautiful Tim! I couldn't have said it better myself.
You can sign up to receive updates via RSS or email or join us on Facebook