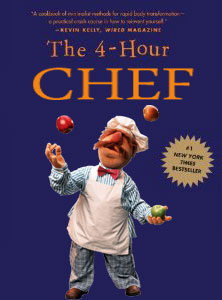 Escape the Kitchen, Cook Anywhere, Join the New Bisque: The 15 Minute Falafel – How to use 20% of the Ingredients and Get 80% of the same Great Taste!
Maybe you read the Big News from today's copy of the NY Times?
Tim Ferriss is set to release his brand new book "The 4-Hour Chef" and he will be publishing it on my beloved Amazon
!
Here is an excerpt from Amazon.com corporate:
"The 4-Hour Chef," which is expected to be released in April 2012, will be published in print, as well as enhanced digital and audio formats"
"The new full-length book builds upon Ferriss' "4-hour" philosophy by transforming the way we cook and eat. Featuring recipes and cooking guidelines from world-renowned chefs and interspersed with the revolutionary advice Ferriss' fans have come to expect, "The 4-Hour Chef" is a practical but unusual guide to mastering food and cooking, whether you are a seasoned pro or a blank-slate novice. The book also showcases the very best recipes based on Ferriss' The Slow-Carb Diet, which thousands of his readers have tested for fat loss and performance enhancement."
End quote!
Personally, I am excited to see Tim go this way. And like many, I am sure, not at all surprised.
I happened to be listening to an old Tony Robbins recording on my drive to work today (please don't judge I was hard up for some inspiration).
Anyway, Tony in his infinite wisdom, quoted something Wayne Gretzky said many years ago when they asked him what made him a great hockey player:
He said:
"A good hockey player plays where the puck is. A great hockey player plays where the puck is going to be."
Bravo Tim, maybe after this you will earn the right to be called the "Great One"!
Except really The Four Hour Chef?
Well, since you convinced me to buy a kettlebell, attend an OM'ing workshop, and outsource my workout who knows what you will get me to do this time.
But I can guarantee you this much: Making men proficient in the kitchen is probably the only true path to Incredible Sex and Becoming Superhuman!
If you have an opinion I would love to hear what you think….. The 4 Hour Chef: Sizzling Hot?  Or about as fun as a 4-Hour Body ice bath?
You can sign up to receive updates via RSS or email or join us on Facebook.  Don't forget to sign up for the upcoming  4 Hour University.