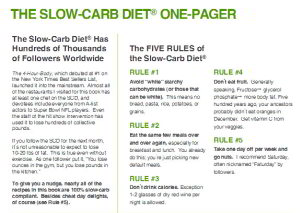 A while back I had published a slow-carb diet cheat sheet that I have been using as a patient handout for my Spanish speaking patients.  About 2 months ago I finally made an English version to use as well.  Prior to this we had been using excerpts that I had copied and pasted from original content in the 4-Hour Body. It was effective but was five pages long and too detailed.
I am sure that this is not yet streamlined enough but it fits on 2 pages and is a good way to get my patients engaged in a conversation about a slow carbohydrate approach to their lifestyle change.  As I have mentioned before this diet seems to work best in those with some degree of insulin resistance. I will give you my 365 day update as we roll into the new year and let you know how my patients have been doing in the long term. I think this is really the best indicator of success of any dietary protocol.
Please feel free to download, distribute, update and propagate this material as you see fit. I am always looking for suggestions on how to make this better for my patients. Any comments or recommendations on how this could be made better is always appreciated.
The Four Hour Body Slow Carb Diet ENGLISH
The Tim Ferriss On-Pager (new 2013)
Here is the Spanish Version as well. I have been told that the translation isn't perfect, but it is good for getting the point across.
4 Hour Body Slow Carb Diet Spanish
You can sign up to receive updates via RSS or email, join us on Facebook or sign up for the much anticipated (at least by myself) 4 Hour University.