Sadly, I had not read the reversing injuries chapter of The 4-Hour Body until last night. I say sadly because as a family practitioner I treat several people a day for these types of injuries. Most people want a quick fix so they come to me looking for medications that will mask their pain. Many have been in chronic pain for years and have had several rounds of physical therapy and frustration with a healthcare system that has often left them worse off than when they began.  I find most of the time the medication approach doesn't work, especially for people experiencing chronic pain.  That is why I was pleasantly surprised to find this chapter in Tim's book. Also, most people aren't aware that there are other options to treating their pain that may be more effective.
My personal opinion is these methods would be quite effective for alleviating much of the pain that we deal with on a day to day basis. Tim's #1 recommendation from the book (barefoot running) is something I have been doing for over a year now. I had suffered from low back pain and tight hip flexors that at one time had me out of commission for 4 months. It was at this moment that I understood the meaning of pain and also frustration because no matter what I did the pain remained. I found a good physical therapist which helped some as he pointed out the problem, but it was through self designed gym workouts that were serendipitously the right ones (working out opposing muscle groups) and a change to minimalist shoes (also a happy accident) which solved most of the problem. I wish I had had some of the techniques listed below at the time of my injury, I think these would have helped quite a bit.
What saddens me most is watching people give up on performing the activities they love the most because of pain. Or (in the realm of back pain) being convinced through MRI's and specialist evaluations that they have a disk problem; which most often they don't.
Some of these methods featured in the 4-Hour Body are pricey which definitely limits them to a select few. But, considering what most of us are required to pay in co-pays and deductibles it could be worth the cost and actually save you money. The following method, the Egoscue (pronounced "Eg-os-cue," not "Ego-scue") is intriguing.
According to Tim: "Peter Egoscue is the founder of the Egoscue Method, a postural therapy program with 24 clinics worldwide. Peter is a former marine and self-taught therapist who became famous through experimentation on himself and athletes."
His method makes sense to me. I would suggest you read the reversing injuries chapter in the book and use this as a portable reference. I have included a cheat sheet that you can download or print that would be useful as you attempt these movements.
According to Tim:
Based on several months of testing myself and other laptop hunchers, I can recommend six 80/20 exercises for desk-dwellers' postural imbalances. For the minimalists who work at home (or who have understanding coworkers), I suggest performing #1, #2, and #3 after every two or three hours at a desk or in a sitting position and performing all five movements at least once per week.

The supine groin progressive, the most inconvenient, unusual, and time-consuming of the five, is the singular most effective tool I've found for eliminating psoas and other hip flexor tightness to unlock the pelvis and relieve hamstring tightness.
I. Static Back Sets 1 | Reps 1 | Duration 0:05:00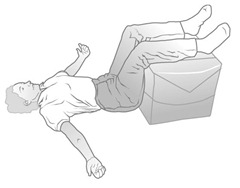 Description
Lie on your back with your legs up over a block or chair.
Place your arms out to the sides at approximately 45 degrees from your body with palms up. Touch your thumbs to the floor.
Relax your upper back and ensure your lower back flattens to the floor evenly from left to right.
Hold this position for five minutes.
II. Static Extension Position on Elbows Sets 1 | Reps 1 | Duration 0:01:00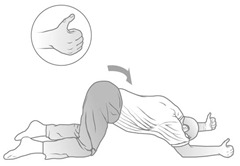 Description
Start on the floor on your hands and knees, ensuring your higher joints are aligned (i.e., shoulders, elbows, and wrists in a straight line; hips directly above the knees).
Walk your hands forward about six inches, and then, noting placement of the hands, replace them with your elbows.
Make a light fist of each hand and pull them away from each other, pivoting on your elbows and turning the thumbs out.
Push your hips backward toward your heels to place an arch in your lower back.
Let your head drop down.
Hold for 60 seconds.
III. Shoulder Bridge with Pillow Sets 1 | Reps 1 | Duration 0:01:00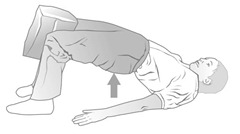 Description
Lie on your back with your knees bent and your feet pointed straight ahead.
Place a pillow between your knees and apply a constant pressure inward while executing the exercise.
Relax your upper body and lift your hips and back up off the floor.
Hold in top position for one minute.
IV. Active Bridges with Pillow Sets 3 | Reps 15 |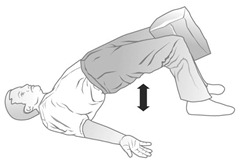 Description
Follow the instructions for the last exercise, but, instead of holding at the top of the movement, lift your hips as high as you can and slowly lower them back down. Keep the motion as smooth and continuous as possible.
Repeat 15 times for three total sets.
V. Supine Groin Progressive in Tower Duration 25 minutes each side
Description
Lie on the floor with one leg up over a block or chair, bent to 90 degrees (in the illustration, the right leg). Your arms should be out to your sides at 45 degrees, with palms facing up.
Place the other foot in the boot used with the tower.
Place your booted foot on the tower, starting at the lowest level and moving it up until an arch begins to form in your lower back. This is the level where you will complete your first 5 minutes.
Hold until your back is flat on the floor. Pay more attention to the flattening of your back than the specified time.
After 5 minutes, lower your foot one level on the tower and again hold.
Continue this until your leg is extended straight out on the lowest level.
Switch legs and repeat the entire sequence.
Va. Alternative: Supine Groin on Chair
This is a far inferior version of the supine groin progressive, as it's not progressive, but it's more convenient.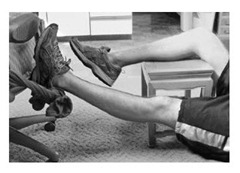 Description
Tie a sweatshirt or pair of sweatpants around a chair or door knob.
Set a small chair or table, approximately knee height, next to the set-up from step 1.
Suspend the heel of one leg in the sweatshirt or sweatpants and rest the other leg on the chair or table. Hold for 10 minutes.
Repeat on the opposite side.
VI. Air Bench Sets 1 | Reps 1 | Duration 0:02:00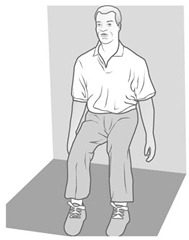 Description
Stand with your back against a wall with feet and knees hip width apart. Feet point straight ahead.
Walk your feet away from the wall while sliding your body down at the same time until your knees are bent at 90 degrees. Ensure your ankles are slightly ahead of your knees. Your lower back should be completely flat against the wall. Your arms can hang down to your sides, or you can rest your hands gently on your lap. Keep the weight in your heels and do not press forward on your toes.
Hold for two minutes.
Resources:
Download:
Egoscue Method Cheat Sheet (PDF) (Scribd)
Note: This information is meant to supplement The 4-Hour Body
. It is full of wonderful information that you can only find in the BOOK. It is definitely worth the $15.95 price tag and then some.
You can sign up to receive updates via RSS or email, join us on Facebook or sign up for the much anticipated (at least by myself) 4 Hour University.