In the 4-Hour Body Tim has two protocols that include High Vitamin Butter Oil.  He uses this in combination with fermented Cod Liver Oil within his protocol for boosting testosterone.
Let's review really fast:
At first glance this sounds both extremely strange and to most casual observers: GROSS! Really, even if your testosterone is "boosted" who in their right mind is going to sleep with you after ingesting this combo?
The truth of the matter is that it is not as bad as it sounds and beyond its testosterone boosting potential this combination of butter oil and cod liver oil has so many beneficial healthy side effects it is one to consider continuing long term. Only one caveat: I would not recommend this beyond one month if you are not having your Vitamin D levels monitored.
Today I am going to talk more about the combo and try to answer a question I found myself asking:
WHY THE BUTTER OIL?
I am also going to use this opportunity to take a better look at the benefits of Cod Liver Oil and why this combo may be superior to fish oil alone.
Why Cod Liver Oil vs. Standard Fish Oil Tabs?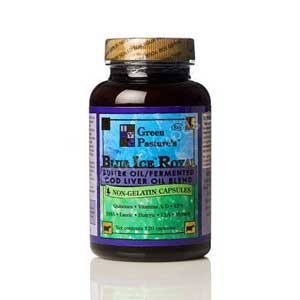 Once a standard supplement in traditional European societies, cod liver oil provides fat-soluble vitamins A and D, which was present in the diet of primitives in amounts ten times higher than in modernized diets.
Also, just like fish oil tabs cod liver oil is extremely rich in eicosapentaenoic acid (EPA) and docasahexaenoic acid (DHA).
The body makes these fatty acids from omega-3 alpha-linolenic acid. There is no escaping the huge body of evidence proving the benefits of increasing Omega 3's in your diet.
The best fish oil supplements are made from the oil from the body of the fish and should be molecularly distilled so they do not contain contaminants. This means they would not naturally contain vitamin D or Vitamin A.
Cod liver oil contains more vitamin A and more vitamin D per unit weight than any other common food.
Cod liver oil provides vitamin D that helps build strong bones in children and helps prevent osteoporosis in adults.
Cod liver oil contains 7 percent each of the elongated omega-3 fatty acids EPA and DHA.
Heart attack deaths increased during periods when the vitamin A content of the diet was low. Cod liver oil can provide vitamin A on a continuous basis throughout the year.
Cod liver oil greatly improves heart function to prevent heart disease and to treat it even in advanced stages, after a heart attack and after heart surgery. Cod liver oil alters the linings of the arteries in such a way as to improve healing after damage. This is attributed to the omega-3 fatty acids but vitamin A, D and K all have important roles to play in facilitating mineral absorption, improving muscle function and supporting elasticity of the blood vessels.
Many of the conditions addressed by cod liver oil are considered related under the title Syndrome X. These include obesity, hypertension, insulin resistance, adult onset diabetes and stroke. Evidence is accumulating that these diseases of civilization are the result of high levels of omega-6 fatty acids and low levels of omega-3 fatty acids along with deficiencies of fat-soluble vitamins. We may be paying a very high price for our rejection of parental wisdom to take our cod liver oil.
Pregnant women using cod liver oil have infants with a lower risk for juvenile type 1 diabetes.
As for treating diabetes in adults, cod liver oil has been used in a number of trials with both insulin-dependent and non-insulin-dependent diabetes. In both conditions cod liver oil improved glucose response and other markers of the disease.Vitamin A in cod liver oil helps promote healing and protects the retina, both problem areas in the diabetic patient.
Cod liver oil has lowered blood pressure induced by stress-elevated levels of cortisol.
Colitis responds more effectively to the type of omega-3 fatty acids in cod liver oil than to medication.
Topically applied, cod liver oil contributes to faster wound healing and improvement in skin quality.
And what about cancer? All the nutrients in cod liver oil help prevent cancer. Vitamin A has been part of every successful alternative cancer therapy so far. In a study in China, use of cod liver oil was found to be protective against childhood leukemia.In a study of Norwegian men and women, consumption of cod liver oil was found to protect against lung cancer.
The "X" Factor:
Butter Oil

and Vitamin K

Dr. Weston A. Price discovered High Vitamin Butter Oil in the 1930's

Cod liver oil along with high-vitamin butter oil, extracted by centrifuge from good quality spring or fall butter is superior to cod liver oil alone.

The butter oil contains what Dr. Price called Activator X, now considered to be vitamin K2, which works synergistically with vitamins A and D. Your diet should include sources of vitamin K, such as good quality butter from grass-fed cows and/or high-vitamin butter oil, fat from grass-fed animals, cheeses from grass-fed animals and duck or goose liver, along with cod liver oil.

Of course you can take this in supplement form.

A growing body of published research confirms that vitamin K2 is important for the utilization of minerals, protects against tooth decay, supports growth and development, is involved in normal reproduction, protects against calcification of the arteries leading to heart disease, and is a major component of the brain.

Vitamin K2 works synergistically with the two other fat-soluble activators: vitamins A and D.
More about Vitamin A, D & Cod Liver Oil
Most brands of cod liver oil go through a process that removes all of the natural vitamins. The resultant product contains very low levels of vitamin A and virtually no vitamin D. Some manufacturers add manufactured vitamins A and D to the purified cod liver oil.
Fortunately, in the U.S. we have naturally produced, unheated, fermented high-vitamin cod liver oil that is made using a filtering process that retains the natural vitamins.
High-vitamin fermented cod liver oil is sold as a food and often does not contain vitamin levels on the label which can make it frustrating when trying to determine the amount to take. However, after numerous tests, the approximate values of A and D have been ascertained at 1900 IU vitamin A per mL and 390 IU vitamin D per mL.
Thus 1 teaspoon (5 mL.) of high-vitamin fermented cod liver oil contains 9500 IU vitamin A and 1950 IU vitamin D, a ratio of about 5:1.
Based on these values, the dosage for the high-vitamin fermented cod liver oil is provided as follows:
Children age 3 months to 12 years: 1/2 teaspoon or 2.5 mL, providing 4650 IU vitamin A and 975 IU vitamin D.
Children over 12 years and adults: 1 teaspoon or 10 capsules, providing 9500 IU vitamin A and 1950 IU vitamin D.
Pregnant and nursing women: 2 teaspoon or 20 capsules, providing 19,000 IU vitamin A and 3900 IU vitamin D.
OK Now What?
Hopefully after reading this blog post a couple of things have happened:
If someone asks you why you take butter oil with your high vitamin cod liver oil: You can impress them and tell them it is because it contains Vitamin K2 which works synergistically with the two other fat-soluble activators: Vitamins A and D.
You have been convinced that Cod Liver Oil may have some real benefits over just OTC fish oil tabs which are consumed by the masses.
You see this combo as not just as a way to boost testosterone although it is definitely going to help with that as well.
Considered by many to be very best and probably the easiest to take

:

Product Description (click below to view)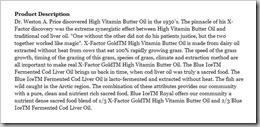 References:
Almost all of this blog post was adapted from info by the Weston A. Price Foundation. If you want more info on this topic (and there is a lot more trust me) I would direct you to their amazingly informative website.