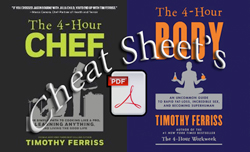 When I first read the 4 hour body I casually overlooked Tim's recommendation for accelerated fat loss which he now defines as the "Fat Loss MED":
"Fat loss MED = consume 30 g of protein within 30 minutes of waking up. Dozens of readers have lost 100 + lbs each; thousands more have lost 10– 100 lbs."
I have listened to many of the recent media appearances of Tim promoting the 4 Hour Chef and this seems to be his new tag line.  It fits with the idea of true behavioral change: Start with the least amount of change and you will have better compliance.
For  last year and a half I have been providing my patients with the  5 rules of the slow-carb diet. I have had some great successes but overall I would say it is in line with the 80/20 rule. Meaning 20 percent of my patients really roll with it and have excellent results, the other 80 percent I am afraid do not.
So I decided that I would simplify this  and see if I could make an 80/20 flip… My goal is to have 80 percent patient compliance by 2013.
Testing the claim – 3 Steps to Slow Carb Success
So this week I decided to test Tim's claim and throw away the 5 rules of the slow carb diet as my first step in favor of the new fat loss MED.
Every patient that needs (and wants) to begin a weight loss (or insulin crushing) regimen is receiving one simple recommendation:
Take 30 grams of protein within 30 minutes of waking up. That is it. Don't worry about any other part of your day, diet or routine. 30/30 and you will lose weight "I guarantee it!"
Step 1
I have created this patient handout/cheat sheet:
[scribd id=114906041 key=key-1ezi1o2xmq8axd30qwhy mode=scroll]
---
Step 2
The goal is to focus on the 30/30 rule  for 30-90 days (going case by case) and then begin to implement the five rules. I will give this out at the next visit only after they have successfully initiated the 30/30 rule.
[scribd id=66909223 key=key-2w2wpf9w4unxd83av90 mode=scroll]
---
Step 3
And then later provide a more comprehensive food matrix:
[scribd id=93335086 key=key-siwfnokyewx1mgqyho9 mode=scroll]
The Whole 30/30
Surprise, people love this idea!  After just one week of testing my theory I have been amazed by the initial enthusiasm:  "What that is all I have to do" Yep, I say, eat more protein and lose more weight. It is as simple as that!
I will start using my cheat sheet this next week. The holiday's tend to be a great time to begin a weight loss/slow carb regimen. I like to tap into people's motivation and get them thinking early about the new year.
I will present my results in a couple of months and let you know how people have done. If you are just starting I recommend giving this above progression a try. Like anything in life start low and go slow for the best results!
If you haven't already make sure to check out The Ultimate 4-Hour Body Resource for an easy to follow protocol guide! Or more cheat sheets!
---
You can sign up to receive updates via RSS or email.  If any of this info helped you please share with a like, it really helps!