About Stephen: On a Mission to Define the 4 Hour Life

The Beginning of a Dream – 2011
The hardest thing to do in life is to simplify very big ideas!
Hi my name is Stephen and I am a self-proclaimed Tim Ferriss four hour fanatic. I am a believer in the fundamental idea that life when analyzed carefully and tweaked a little here and there, will reveal new insights and shortcuts that have the potential to change the course of our lives dramatically.
The status quo may be evolution in progress, but in order to fully evolve we must continue to question the status quo with the knowledge that what worked yesterday is different today.
Never has this been so true as today, with the growth and influence of the internet.
If you found this site I suppose you, like me, love Tim Ferriss and his books. I can't even remember how I got my first copy of the Four Hour Work Week, but I began listening to it on my one hour commute to work. At that time we had just had our first child, it was 2007, we had bought our first house just after the market began to come down a bit, but of course not near as low as it would go.
Something resonated with me quickly. The realization that life held a lot more than the typical 9-5. I had always been a self help book guru, but this one was different. It held action steps that were simple and gave way to a momentum that really changed my life forever.
I'd rather live in regret of failure than in regret of never trying. ~ MJ DeMarco
Maybe you and I are a lot alike, or maybe not. I still contine to punch a clock,  no longer 5 days a week but 3. I have a degree in Biological Science from the University of Washington in Seattle and completed my medical school training at the University of Medicine and Dentistry of New Jersey where I received my degree in Physician Assistant studies in 2004.  I work increadibly hard as a Physician Assistant and my time at work is time that I love.
Loving your job is imperative and doing work you believe in is important  to finding happiness. I don't believe you need to have a location independent, self employed lifestyle to embrace the principles of Tim Ferriss. In fact, most of his readers probably don't. The point is to focus your attention on what is most important and do that. Pursue your passions outside of work, create a second stream of income if you can, and utilize all the tools necessary to automate your finances. Avoid overspending, focus on a life of adventure, helping others and less on accumulating "stuff"!
I love my family more than anything else. And have elected to focus my time on them especially during the years that they are babies and toddlers. This time is more valuable than all the money in the world and goes by increadibly fast. I believe that you can be driven, motivated and highly productive as a parent while continuing to be present and attentive in their lives. This is and always will be my top priority. That and loving my wife.  The four hour life has always been focused on my family.
We downsized our lives dramatically, and beyond "The Four Hour Workweek", bloggers like Leo Babauta from Zen Habits, Tammy Stroble from Rowdy Kittens and Pat Flynn from smartpassiveincome have been instrumental in influencing a redesign of my life. They also taught me the value of wonderful writing given as a gift for free.
I am also thankful for the constant support and inspiration provided by a wonderful core of 4-Hour Bloggers.
I ran my first triathlon and half marathon in 2008 and I was hooked! I am an avid biker, surfer, runner, hiker, and all things outdoors kind of guy.
I love nutrition and believe food is not just a chemical used to build muscle and drive metabolism but to be shared and enjoyed. Tim's second book (The 4 Hour Body) was timed perfectly. And this has been the focus of most of my work lately. I have been bringing these principles to my own life and to my patients. This blog was designed first to be a venue to share this with anyone who was interested.
I am a believer that whatever we do in life it should be done to bring value to others. This I find to be another key to happiness. We should not follow the heard or we will be left with very
little grass to chew.
Big Things for 2013!
I am reading a book  that will define my 2013. It resonates with me and has me thinking a lot about a new lifestyle design and the true value and nature of time.
What is the true nature of a "paradox of practice"? What are the dangers of living the "standard American dream" ?  I hope to crack the code of a life lived for today without sacrificing a better tomorrow.
And because of this we will begin to prepare our family for a new chapter and a new adventure that I hope to share here on this blog.
I thank you for taking the time to be part of this journey with us. I love to connect with readers, so make sure to say hi on Facebook,  sign up for automatic updates, or just stop by from time to time. We learn best from each other!
Breaking the Bondage 2014-2015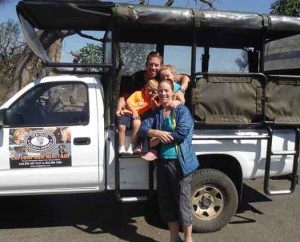 I finally did it! After 4 years of hard work and due diligence I have been able to automate an online income stream that has allowed my wife and I to put our jobs on hold while we travel around the globe in celebration of our 1 year of freedom.
We left for South Africa with our two small children on August 8 2014 and will be traveling for the year.
Our itinerary is: South Africa → Bali → New Zealand → Australia → Thailand → Cambodia → Vietnam → Laos → China and possibly a bit of South America.
If you think creating a 4-Hour Workweek after children is impossible you will happy to know that the case studies in Tim's book aren't just one young hotshots way of expanding his reader base. It can be done, it is not easy, but it can indeed be done.
I will be writing more about this journey soon, so stay tuned.