Cissus Quadrangularis: 4-Hour Body Vitamins and Supplements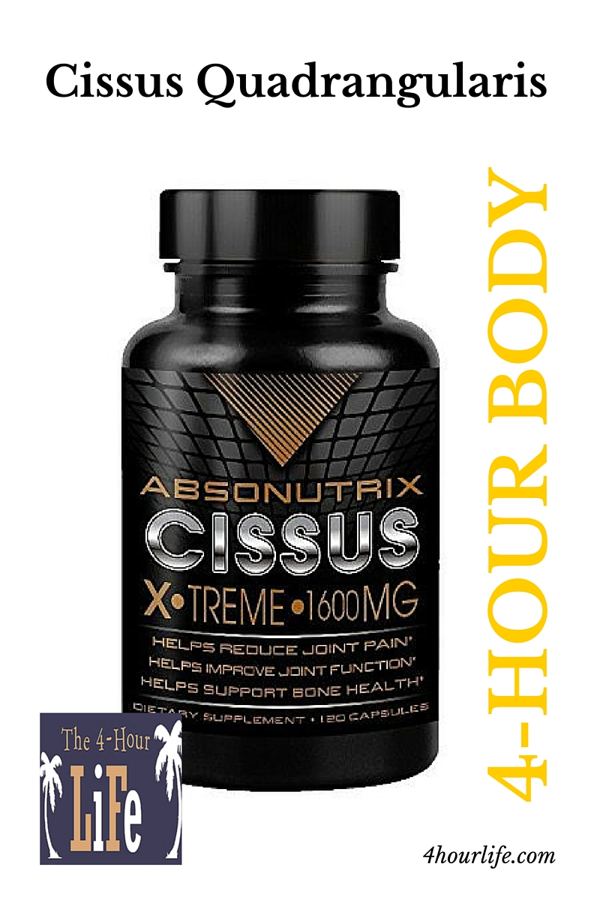 Cissus Quadrangularis shows up in the 4-Hour Body as part of Occam's Prescriptions.
Tim Claims:
For those who can afford it, I believe CQ is very effective for minimizing unwanted fat gain while overfeeding. Until more human studies are done, I don't plan on continuous use, but I will use it during 8–12 week growth cycles, on "off" days, or after joint sprains".
From Occam's Prescriptions
Cissus Quadrangularis: 2,400 mg three times per day
Alpha-Lipoic Acid:300mg, 30 minutes before each whole food meal
L-Glutamine:

Consume 80 grams during the first five days of Occam's Protocol:
10 grams every 2 hours on the dot until 80-gram quota is reached
After the Initial five day loading period: 10-30 grams post workout will speed repair and help prevent soreness

Creatine Monohydrate: For 28 days:

Consume 3.5 grams upon waking
Consume 3.5 grams before bed
if you use powder, mix in 5-6 grams total as losing one to two grams in solution is hard to avoid.
Consumer Information and Education
Provided by
4hourlife.com
Based on
Natural Medicines Comprehensive Database
What is it?
Cissus quadrangularis is a succulent vine from Africa and Asia. It is one of the most commonly used medicinal plants in Thailand, and is also used in traditional African and Ayurvedic medicine. All parts of the plant are used for medicine.Cissus quadrangularis is used for obesity, diabetes, a cluster of heart disease risk factors called "metabolic syndrome," and high cholesterol. It has also been used for bone fractures, weak bones (osteoporosis), scurvy, cancer, upset stomach, hemorrhoids, peptic ulcer disease (PUD), painful menstrual periods, asthma, malaria, and pain. Cissus quadrangularis is also used in bodybuilding supplements as an alternative to anabolic steroids.

Is it Effective?
Natural Medicines Comprehensive Database rates effectiveness based on scientific evidence according to the following scale: Effective, Likely Effective, Possibly Effective, Possibly Ineffective, Likely Ineffective, Ineffective, and Insufficient Evidence to Rate.The effectiveness ratings for CISSUS QUADRANGULARIS are as follows:

Insufficient Evidence to Rate Effectiveness for…

Obesity and weight loss. Developing research shows that taking a specific Cissus quadrangularis combination product (Cylaris, Iovate Health Sciences Research) or taking a specific Cissus quadrangularis extract (CQR-300) reduces weight in obese and overweight people.
Diabetes.
Heart disease risk factors that occur together (metabolic syndrome).
High cholesterol.
Bone fractures.
Osteoporosis.
Scurvy.
Cancer.
Upset stomach.
Hemorrhoids.
Stomach ulcers.
Menstrual discomfort.
Asthma.
Malaria.
Pain.
Bodybuilding.
Other conditions.

More evidence is needed to rate the effectiveness of Cissus quadrangularis for these uses.

How does it work?
There is not enough information to know how Cissus quadrangularis might work for medicinal purposes in people. Test tube studies and research in animals show that it has antioxidant, analgesic, and anti-inflammatory properties. It might have activity against the organism that causes malaria.

Are there safety concerns?
Some specific commercial products containing Cissus quadrangularis seem to be safe when used appropriately in adults short-term (for up to 6-8 weeks). These products can cause side effects such as headache, intestinal gas, dry mouth, diarrhea, and insomnia. But there is not enough information to know how often these side effects might occur.Since there is not much information about the use of Cissus quadrangularis in people, long-term safety is not known.

Special Precautions & Warnings:

Pregnancy and breast-feeding: Not enough is known about the use of Cissus quadrangularis during pregnancy and breast-feeding. Stay on the safe side and avoid use.

Are there any interactions with medications?
It is not known if this product interacts with any medicines.Before taking this product, talk with your health professional if you take any medications.

Are there any interactions with Herbs and Supplements?
There are no known interactions with herbs and supplements.

Are there interactions with Foods?
There are no known interactions with foods.

What dose is used?
The appropriate dose of Cissus quadrangularis depends on several factors such as the user's age, health, and several other conditions. At this time there is not enough scientific information to determine an appropriate range of doses for Cissus quadrangularis. Keep in mind that natural products are not always necessarily safe and dosages can be important. Be sure to follow relevant directions on product labels and consult your pharmacist or physician or other healthcare professional before using.

What other names is the product known by?
Asthisonhara, Chadhuri, Chaudhari, Cissus, Cissus Extract, Cissus Formula, Cissus Formulation, C. Quadrangularis, Cissus Quadrangularis, Cissus Quadrangularis Extract, CORE, CQ, CQE, CQR-300, Hadjod, Hadjora, Harbhanga, Harsankari, Hasjora, Kandavela, Mangaroli, Nalleru, Namunungwa, Phet Cha Sung Khaat, Phet Sang Kat, Phet Sangkhat, Pirandai, Quadrangularis, Samroi To, San Cha Khuat, Stemmed Vine, Vajravalli, Vedhari, Veld Grape, Veldt-grape, Vitis Quadrangularis, Winged Treebine.
From the Four Hour Body
Cissus quadrangularis (CQ) is an indigenous medicinal plant of India. It is a newcomer in mainstream supplementation, usually prescribed for joint repair. In July 2009, I experimented with high-dose CQ following elbow surgery due to a staph infection. Unexpectedly, used in combination with PAGG, it seemed to have synergistic anti-obesity and anabolic (muscle growth) effects. Upon performing a second literature review of its use in Ayurvedic medicine and fracture repair, it became clear that there were implications for preventing fat gain during overfeeding. Rural China, where I continued experimentation with CQ, provided high-volume rice meals combined with sweets at mandatory sit-down meals, 3–5 times per day. It was the perfect fat-gaining environment. CQ preserved my abs. I saw measurable fat-loss and anabolic effects once I reached 2.4 grams (2,400 milligrams), three times per day 30 minutes prior to meals, for a total of 7.2 grams per day. Is that the magic dose? I had approximately 160 pounds (72.7 kilograms) of lean bodymass, so there might be a trigger at 45 milligrams per pound lean bodymass, or it could be an absolute effective dose regardless of bodyweight. Until long-term side-effect studies are done at these higher doses, I don't suggest exceeding 7.2 grams per day.
For those who can afford it, I believe CQ is very effective for minimizing unwanted fat gain while overfeeding. Until more human studies are done, I don't plan on continuous use, but I will use it during 8–12 week growth cycles, on "off" days, or after joint sprains. Kevin Rose, one of my traveling companions during our three-week trip, lamented, "Glenn and I were getting fatter and fatter, while this f*cker was getting ripped. What the hell?!" One friend, a serial CTO, referred to cissus quadrangularis as the "morning-after pill" for diet after seeing me chase peanut butter ice cream and brownies with it. CQ works.
– Ferriss, Timothy (2010-12-08). The 4-Hour Body (p. 110).
Resources
Absonutrix Cissus Quadrangularis Xtreme 1600mg – 120 Capsules Cissus Quadrangularis Capsules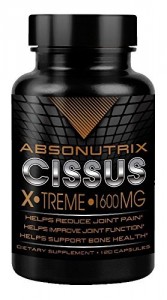 Natural Medicines Brand Evidence-based Rating (NMBER)
Ingredients:
Each capsule contains: Cissus Quadrangularis stem. Other Ingredients: Gelatin, Cellulose.